WHAT GREAT LEADERS DO DIFFERENTLY
The premier 2-day leadership development experience!
What Great Leaders Do Differently
Great leaders are inspiring, authentic, bold, influential, empowering, visionary and emotionally-intelligent. And in this advanced 2-day training, you will learn the latest science and techniques for mastering all of those leadership competencies!

This is the only public leadership development seminar personally taught by a New York Times bestselling author, Forbes contributor and one of the Top-30 Leadership Gurus in the world! Join Mark Murphy as your personal leadership coach for a transformative 2-days!

You Will Learn...
By attending this program, you will:
Discover your authentic leadership style (and WHEN and HOW to adjust your style)
Spot innovation opportunities before anyone else
Set bold goals that inspire people
Lead and collaborate with the biggest personalities
Build your network of champions and supporters
Hone your emotional intelligence
Become even more visionary
Whether your leadership style is like the hard-charging Jeff Bezos (Founder of Amazon) or the diplomatically-intelligent Sheryl Sandberg (COO of Facebook), you will master your authentic style, leverage more power and influence, motivate innovation, build trust, and inspire everyone around you!
You Will Also Receive...
Your personal 25-Page Leadership Styles Report (NOTE: each participant will take the online assessment prior to the class)
Comprehensive workbook with exercises, scripts, research and more
Signed copy of the book Leadership Styles: How To Discover And Leverage Yours
2 additional leadership assessments to be taken during the session: "What Motivates You?" and "What's Your Communication Style?"
An additional 4 HOURS of online leadership training videos to keep your learning going AFTER the seminar
Who Should Attend?
Mid-to-senior level leaders, although high-potential frontline leaders can also benefit.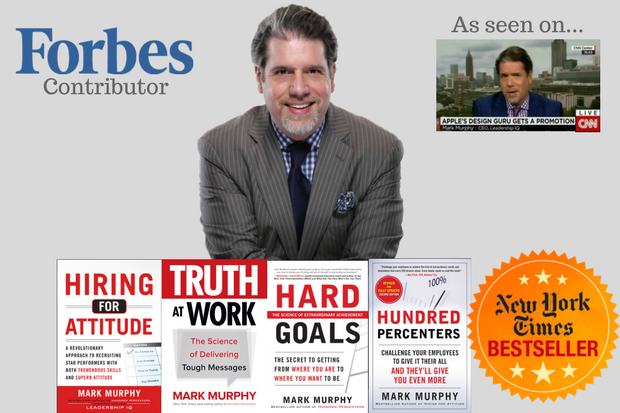 Your Personal Leadership Coach
Mark Murphy is a New York Times bestselling author, weekly contributor to Forbes, ranked as one of the Top 30 Leadership Gurus in the world, and the Founder of Leadership IQ. He's trained leaders at the United Nations, Harvard Business School, Microsoft, MasterCard, SHRM, and hundreds more.

Mark's leadership research has appeared in The Wall Street Journal, The New York Times, Fortune, Forbes, Bloomberg BusinessWeek, and U.S. News & World Report. Mark has also appeared on CNN, NPR, CBS News Sunday Morning, and ABC's 20/20. Mark's books include: Leadership Styles, Hiring For Attitude, Truth At Work, HARD Goals, and Hundred Percenters.


Day 1 Agenda
Discover Your Authentic Leadership Style
Get your personal results from the Leadership Styles Assessment (taken by more than 400,000 leaders)!
Discover the 4 fundamental leadership styles: Pragmatist, Idealist, Steward and Diplomat.
When you need to be the hard-driving Pragmatist (like Jeff Bezos, Founder of Amazon)
When you need to be the socially intelligent Diplomat (like Sheryl Sandberg, COO of Facebook)
What are the BEST situations to be a Pragmatist, Idealist, Steward or Diplomat?
What are the WORST situations to be a Pragmatist, Idealist, Steward or Diplomat?
The 2 biggest STRENGTHS of Pragmatists, Idealists, Stewards and Diplomats
The 2 biggest WEAKNESSES of Pragmatists, Idealists, Stewards and Diplomats
3 ways to tell when your leadership style is NOT working in a particular situation
Why using the wrong leadership style is one of the biggest reasons that CEOs get fired

Hone Your Emotional Intelligence
Why emotional Intelligence is more predictive of leadership success than raw brains or years of experience
Take the 20-question Emotional Intelligence Assessment
3 steps to significantly increase your ability to quickly and accurately read other peoples' emotions
The science of Self-Awareness: the ability to identify & understand your own emotions
The science of Other-Awareness: the ability to identify & understand others' emotions
The science of Emotional Management: the ability to manage & influence emotions
8-part exercise to understand your emotions, why you react and act the way you do, so you can prepare for situations based on your likely reactions

Build Your Circles of Power & Influence
The 7 sources of power (legitimate, coercive, reward, referent, connection, expert, informational) and which power sources YOU should be using
Understand the difference between the Attraction and Power approaches to influence
4 common mistakes that instantly make you LESS influential (and how to avoid them)
Learn how to influence each of the 5 major personality types (with specific do's and don'ts for each type)
How to rewrite your message depending on the personality you're talking to
Diagnose whether someone is likely to be your champion or antagonist
How to build support (and effectively convert the people that don't support you)
3 sources of power you didn't know you had (and how to start using them)
Develop influence in flat or matrix organizational structures


Speak So Everyone Listens
A whopping 93% of leaders think they are effective communicators – yet only 11% of their employees agree
The 4 types of communication styles (Analytical, Personal, Functional and Intuitive) and how to speak to every one
How to speak to a room filled with different communication styles (called Multipathing)
How to identify and speak to 'process-driven' people who like the nitty-gritty detail
How to identify and speak to 'big picture' people who don't want lots of detail
How to identify and speak to 'analytical' people who want data and hard numbers
5 words to say when people aren't listening to you
The biggest way your communication needs to change when you're speaking to 1 person vs. a group
Day 2 Agenda
Become Truly Visionary
3-part exercise to help you to spot innovation opportunities that average leaders miss
Learn a 5-part model to create a vision that is both inspirational and memorable
3 mistakes that make people ignore your vision
5 questions that every vision MUST answer
10 cliché phrases you should NEVER use when communicating your vision
How to use Data to justify and clarify your vision and Stories to spread it like wildfire
3 bold moves that every leader can take
Assess just how much "shaking up" people can take before they crack
Set Bold Goals That Inspire People To Greatness
The 4 tests that every goal has to pass or it's doomed to failure
A 3-part test for assessing whether your goals are too difficult or not difficult enough
How Steve Jobs and Apple use highly visual goals to inspire creative breakthroughs
The 3 hidden flaws that set-up SMART Goals for failure
How to decide when you should set goals that utilize peoples' strengths or strengthen their weaknesses
Why you should NOT give people all the Skills, Budget, Time and Authority they need to complete their goals
How one CEO used a visualization technique to set his goals and immediately got featured on Oprah
How to double the urgency people feel so they start their goals immediately

Master The Player-Coach Model of Leadership
Why so many great leaders are both 'leaders' and 'doers.'
How Steve Jobs designed the iPhone WHILE building Apple. And Warren Buffett still picks investments. And NASDAQ has grown exponentially using 'player/coach leadership.'
New research about how many hours per week a leader needs to spend interacting with their employees
Why you'll never find a good balance between player and coach if you don't develop a deep leadership 'bench'
5 key metrics that show whether your leadership 'bench' is deep enough
The 1 type of task that a player/coach leader should DELEGATE IMMEDIATELY or they'll never find a good balance between 'leading' and 'doing'
3 biggest reasons why companies decide to use a player/coach leadership model
How to use a Peer-to-Peer leadership development model to teach leaders how to do better 'managing'
How to use the player/coach model to prepare your leaders for bigger roles in the future
A leadership training exercise used by NASDAQ and Save the Children that instantly shows leaders how to BOTH 'manage' and 'do'

Lead A Team Of Big Personalities
The Big 4 Personalities you'll see on work teams (Analyzers, Implementers, Collaborators and Challengers), and the strengths and weaknesses of each personality type
Take-home quiz to give to your team to discover their unique mix of Big 4 Personalities so you'll know how to balance them and leverage their talents
Test for choosing the right decision-making process for your team's unique mix of strong personalities
2 techniques for getting the quiet personalities to participate more actively
3 techniques for harnessing and guiding the louder personalities to keep them engaged without them steamrolling the rest of the team
Specific techniques for leading each of the Big 4 Personalities (Analyzers, Implementers, Collaborators and Challengers)
2 tools for generating productive disagreement without degenerating into conflict
This program can also be delivered onsite at your company. For more information about onsite or online training options, please contact Jill Sutherland at 800-814-7859 or jill@leadershipiq.com
Additional Information
You may cancel your registration at any time by emailing
jill@leadershipiq.com
or calling 800-814-7859. Cancellations received more than 30 days prior to the start of the event will receive a 100% refund. Cancellations received 14 to 30 days prior to the start of the event will receive a 50% refund. No refunds will be provided for cancellations received less than 14 days prior to the event, however you may be eligible for a registration credit. No refunds will be issued after the event. All refunds will be refunded to your original method of payment. Registrations may not be shared, but may be transferred at no cost at any point prior to the start of the event with notification to Leadership IQ by phone or email. We reserve the right to cancel a course due to insufficient enrollment, inclement weather, or other events beyond our control. In the event a class is cancelled, we will notify you as soon as possible. You may choose to receive a full refund of your registration fee or credit on another class. Leadership IQ will not be responsible for any cancellation costs you incur, such as airline tickets and/or hotel reservations.