What Great Managers Do Differently
Great managers get 100% effort from their employees, have drama-free cultures, deliver feedback that creates immediate change, have employees that act like owners, retain and inspire their high performers, turn middle performers into high performers, and hire stars with great attitudes.

Based on leading research & hyper-practical tools, you'll learn to inspire employees to give 100% effort, improve accountability, hire stars with great attitudes, give feedback so people listen, build buy-in for change, manage narcissists and blamers, get more time as a leader, and much more!
This is the only public management seminar personally taught by a New York Times bestselling author, Forbes contributor and one of the Top-30 Leadership Gurus in the world! Join Mark Murphy as your personal management coach for a transformative 2-days!


"Relevant, up-to-date, and applicable for any leadership level!"
Tim Watkins, Manager,
Executive Protection

"I have taken many leadership classes, but out of all of them, this is the most valuable one!"
Kevin Garcia,
Service Manager

"One of the best trainings, with practical application techniques, that I have attended in my 30 year career!"
Rhonda Billman, Assistant Director
The Ohio State University



"We brought 4 managers to this class and even after the first break, we were already planning changes to make!"
Donna Frazier, VP Customer Experience
CHOOSE FROM THESE 3 LOCATIONS. AND REGISTER TODAY, SPACE IS VERY LIMITED!
Choose your location below! The program will run from 9:00-4:30 both days. Registration includes lunch both days, as well as coffee, water, etc. throughout the day. Hotel Accommodations (if necessary) are the responsibility of each attendee. As soon as you register, you will receive communication from Leadership IQ with more detailed information, including logistical details, etc. If you need any assistance with registering, please contact Jill Sutherland at 800-814-7859

Execute Without Excuses
Why only 29% of employees know whether their performance is where it should be
How to use Word Pictures™--behavioral descriptions that set explicit behavioral expectations, distinguish between high and low performers and hardwire accountability.
How to use 4 Conversations to overcome Denial, Blame, Excuses and Anxiety
The 8-question "Accountability Test" that will help you diagnose the levels of entitlement vs. accountability in your team & organization
Do More Coaching And Less Managing
6-question test to assess if you have the "coaching mindset"
How coaching changes when you're focused on performance issues vs. goals
Understand the difference between coaching vs. managing vs. mentoring
3 sentences you should say at the beginning of your coaching sessions
How to stop using feedback (which focuses on rehashing past history) and instead use Constructive Dialogue
Deliver Corrective Feedback Without Making People Angry
How to use Fact-Based Communication to "delayer" your conversations (Facts, Interpretations, Reactions, Ends)
Use the I.D.E.A.L.S. script for delivering tough messages without making the recipient defensive or angry
How to avoid the "trigger words" that instantly make people defensive
Why Cognitive Dissonance and the Dunning-Kruger Effect prevent employees from hearing tough feedback and how you can work around them
How to compartmentalize and manage any emotional baggage that causes self-destructive conversations
How to "Restart" and "Redial" conversations that aren't working and how to get them back on the right track
How To Build Support For Your Change Efforts
2x2 grid that shows you exactly how much support you will have for your change effort
How to reframe all your communications so that change sounds like an opportunity rather than a threat
3 biggest points that MUST be included in every memo announcing a change initiative
How to stop and debunk any negative rumors about your change effort
4 question test that will predict the success (or failure) of your change efforts
Hiring For Attitude
The 5-part interview question that reveals if people are "coachable" (and that famously asks candidates to spell the last name of their previous boss)
2 quick tests to discover the attitudinal characteristics that your organization MUST include in interviews
6 words that ruin behavioral interview questions when you're trying to hire for attitude
Why you should never ask "tell me about yourself" or "what are your strengths/weaknesses"
Get a structured form for assessing and evaluating all of your candidates
Managing Narcissists, Blamers, Drama Queens and More
How to turn Negative employees positive by debunking the irrational thoughts that drive their negativity
A specific script for reducing the emotional commotion of Drama Queens and Kings while turning them into a more rational and responsible adult
How to use Narcissists' insecurities to tone-down their ego
How "redirection" and the "control conversation" stop Blamers from pointing fingers at others
How to Inspire and Retain Your High Performers
An effective "retention" conversation script and the best time and place to hold that conversation (using our famous Shoves & Tugs model)
The 3 psychological drivers that high performers have (that middle and low performers often lack)
How to build trust and get candid feedback from your high performers
How to set "HARD Goals" for high performers with maximum psychological impact
How to tell if one of your high performers is contemplating leaving
The Science of Managing Millennials
How to break the Parent-Child management cycle that causes us so many problems when we manage people the same age as our kids
The #1 driver of Millennial engagement (hint: it's not money or praise)
How to give Millennials the 'learning opportunities' they so desperately want
The 6 Psychological Events that made Millennials the people they are today (and how to use that insight to attract and motivate them)
How companies like Google are able to give Millennials a deep sense of purpose while still getting insane productivity from them
How Leaders Can Deliver Killer Presentations
Why leaders need more advanced presentation skills to sell their ideas and build buy-in
How CEOs of Apple, Google and Starbucks deliver killer presentations in just one sentence
How a new presentation format called "Assertion-Evidence" makes your slides significantly more memorable
Key questions to ask your audience that keep them awake, feeling like your message was designed for them, and too engaged to start checking their email
2 new web-based presentation technologies that are way slicker than PowerPoint (and will have your audience amazed)
How to give every graphic in your slides a "Holy Mackerel!" point
Finding Time To Be A Leader
How to distinguish between Green Light, Yellow Light, Orange Light and Red Light Work (and a Grid to plot your major activities)
Which of your Yellow, Orange and Red Light activities should be delegated and which should be eliminated
Identify and eliminate the Top 10 timewasters that consume leaders' time
Checklist for teaching employees how to clarify and complete work assignments so that you don't have to waste time constantly checking-up on them after you delegate
Eliminate some of your misused time with a 3-part Meeting Achievement Checklist that makes every meeting 17 minutes shorter
CHOOSE FROM THESE 3 LOCATIONS. AND REGISTER TODAY, SPACE IS VERY LIMITED!
Choose your location below! The program will run from 9:00-4:30 both days. Registration includes lunch both days, as well as coffee, water, etc. throughout the day. Hotel Accommodations (if necessary) are the responsibility of each attendee. As soon as you register, you will receive communication from Leadership IQ with more detailed information, including logistical details, etc. If you need any assistance with registering, please contact Jill Sutherland at 800-814-7859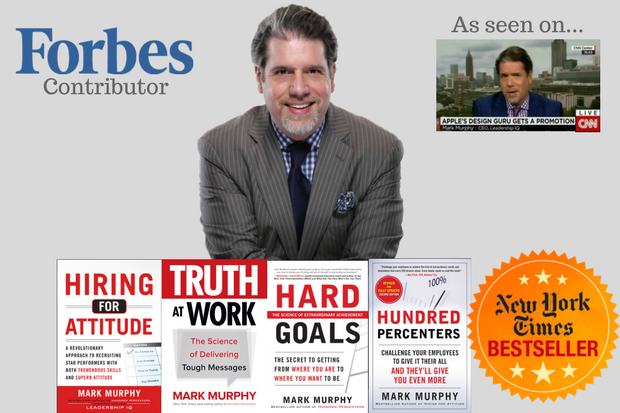 Your Presenter: Mark Murphy
Through his groundbreaking research, Mark Murphy has created some of the biggest ideas in leadership.
He's a New York Times bestselling author,
weekly contributor to Forbes
, ranked as a Top 30 Leadership Guru and the Founder of Leadership IQ. He's trained leaders at the United Nations, Harvard Business School, the Clinton Foundation, Microsoft, MasterCard, SHRM, and hundreds more organizations.
Mark leads one of the world's largest leadership skills studies, and his work has appeared in The Wall Street Journal, The New York Times, Fortune, Forbes, Bloomberg BusinessWeek, and U.S. News & World Report. Mark has also appeared on CNN, NPR, CBS News Sunday Morning, ABC's 20/20, and Fox Business News. Mark's most recent book was Truth At Work: The Science Of Delivering Tough Messages. Before that, he wrote the New York Times bestseller, Hundred Percenters: Challenge Your People to Give It Their All and They'll Give You Even More. Before that, his book Hiring for Attitude was featured in Fast Company, The Wall Street Journal, and chosen as a top business book by CNBC.
READ THE REVIEWS OF THIS SEMINAR!
This is without a doubt the best seminar I have attended in a very long time. Mark is a great presenter. The information is all something that can easily be implemented in my work life. I am looking forward to getting started making these changes.
Debra Brock, Division HR Manager, Marshfield Clinic

This training was incredible. It covered aspects of a new and established leader. I am leaving with new ideas, tools and excitement I have not ever had. Thank you for such an incredible job!
Don Whitney, Director of Operational Execution, SageNet

This is a program that every manager or would-be-manager should take. It was full of solid, practical, thoughtful and actionable strategies to improve as a leader or manager. The content is not based on what one person thinks or has experienced, but rather based on solid research from thousands of data points and cases. I highly recommend this program.
Anton Villado, Chief of People Officer, Restaurantowner.com

I have a clearer understanding of what it takes to be an effective leader and I've learned new tools that I can apply in my work environment. Thank you!
Fauzia Sikender, Manager, Employee Engagement, Air Canada

I have been in management for over 10 years and this was the most complete and intensive training that I have ever attended. This seminar far outweighs anything on the market.
Nick Jordan, Senior Director, Uniden America Corp.

This is one of the best leadership courses I have taken. It's amazing how often the word leadership is utilized and yet there isn't a clear standardized definition. Mark did a great job defining the term and elucidating the key characteristics. I would highly recommend this course to others.
Nancy Ortiz, Regional Scientific Manager, AstraZeneca LP

This seminar provides tools for dealing with many "people" issues that have been particularly challenging in my organization. And Mark drills right down to the fine detail. I'll send my senior management to this course. He makes the actions to be taken easily understood and immediately implementable.
Carol Hanes, Chief Executive Officer, Cogdell Memorial Hospital

The information I learned at this seminar will have an immediate impact on my leadership and the efficiency and effectiveness of my employees.
Larry Hausner, Chief Operating Officer, The Leukemia & Lymphoma Society
This program can also be delivered onsite at your company. For more information about onsite or online training options, please contact Jill Sutherland at 800-814-7859 or jill@leadershipiq.com
Additional Information
You may cancel your registration at any time by emailing
jill@leadershipiq.com
or calling 800-814-7859. Cancellations received more than 30 days prior to the start of the event will receive a 100% refund. Cancellations received 14 to 30 days prior to the start of the event will receive a 50% refund. No refunds will be provided for cancellations received less than 14 days prior to the event, however you may be eligible for a registration credit. Registrations credits will be subject to a $100 rescheduling fee if registration is cancelled less than 7 days prior to the start of the event. No refunds will be issued after the event. All refunds will be refunded to your original method of payment. Registrations may not be shared, but may be transferred at no cost at any point prior to the start of the event with notification to Leadership IQ by phone or email. We reserve the right to cancel a course due to insufficient enrollment, inclement weather, or other events beyond our control. In the event a class is cancelled, we will notify you as soon as possible. You may choose to receive a full refund of your registration fee or credit on another class. Leadership IQ will not be responsible for any cancellation costs you incur, such as airline tickets and/or hotel reservations.