Employee Engagement Surveys
The most advanced survey science to help you actually IMPROVE employee engagement, not just measure it!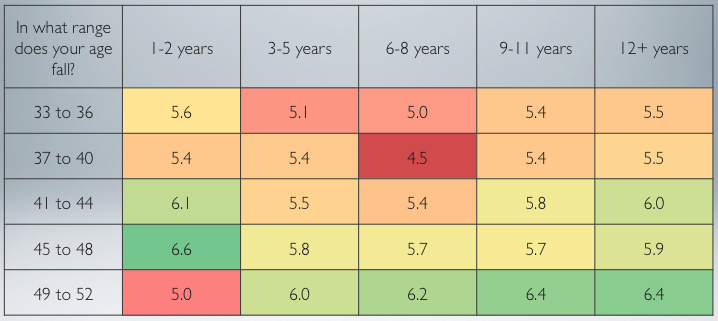 78% of employee engagement surveys are failing to improve levels of employee engagement! That means that your survey investment was wasted.

At Leadership IQ, we have created the most statistically-advanced employee engagement survey that will actually improve employee engagement!

But we should warn you, our approach is not for people who want a fluff survey about having a good friend or always having a smile at work. Our survey, called the Hundred Percenter Index, uses scientific survey practices that pinpoint precisely which issues are engaging (and disengaging) your employees, and give your managers the exact roadmap and skills training to immediately increase performance.
For more information about how our employee engagement survey can help your organization, please contact Jill Sutherland at 800-814-7859 or jill@leadershipiq.com
Here's a quick overview of our approach to employee engagement surveys…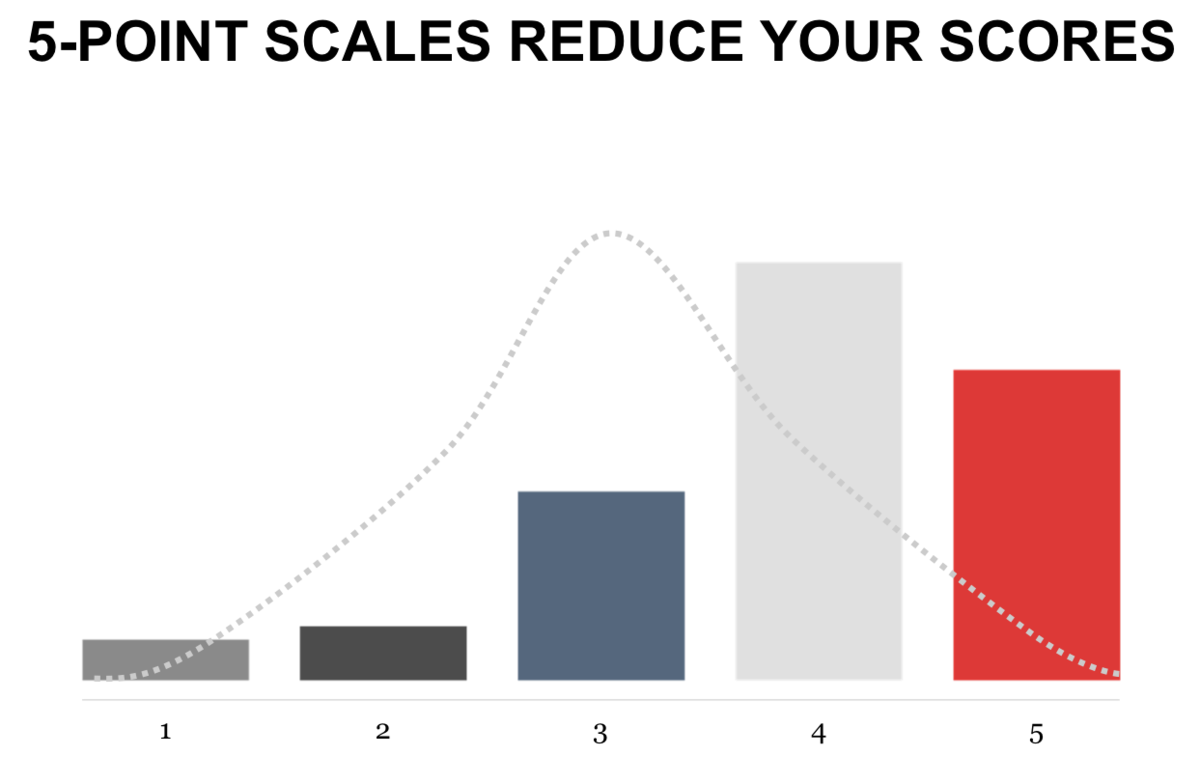 5-Point Scales Don't Work
The 5-point survey scale doesn't work for employee engagement surveys. Employees who really hate their workplace have quit already. So a 5-point scale survey pool is positively biased--- you'll never get as many people rating a 1 as you will a 5. Leadership IQ's 7-point scale broadens the spectrum and provides statistically-valid and easily trackable survey results that let you know what your employees are really thinking.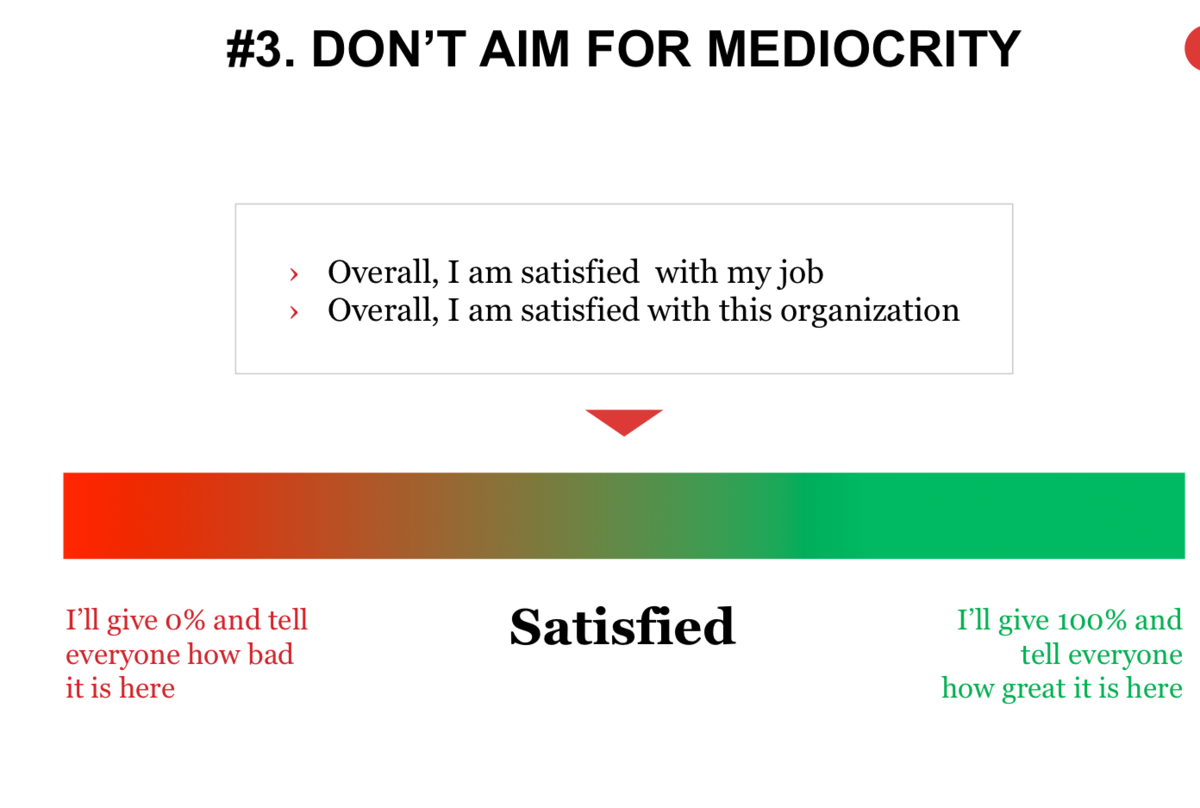 We Won't Ask Employees If They're "Satisfied"
Almost every employee survey includes a version of the statement "Overall, I am satisfied with company X." All this really says is, "I'm satisfied" and what real help is that? Our survey questions let you know if employees are deeply fulfilled and committed to your goals, if they are willing to drip blood, sweat, and tears for the organization. And if not, what it will take to provide the life-altering fulfillment that makes them want to give that kind of 100% effort.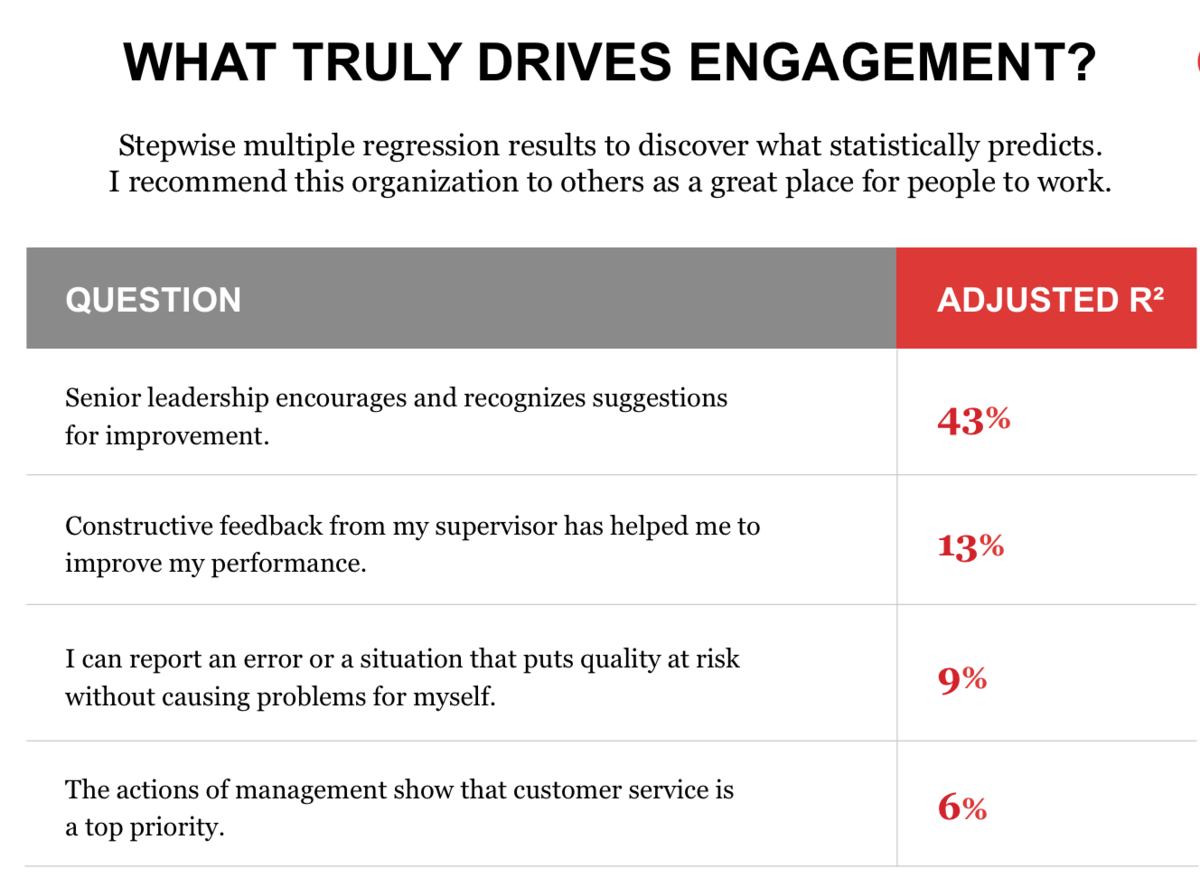 CEOs Love Multiple Regression Analysis
We use an advanced statistical technique called Stepwise Multiple Regression that analyzes all your survey questions to discover which 3-5 issues will immediately improve engagement. If you treat issues with low scores equally with more critical items, you can miss what's truly motivating your employees (your corporate color scheme may get low scores, but is that what's really engaging your employees?). CEOs love the regression analysis because it eliminates guessing and wasted time, and gives an immediately actionable improvement plan that's unique to your organization. Have your scores been flat year over year? Multiple regression precisely forecasts which questions will give you an immediate statistical jump in employee engagement scores.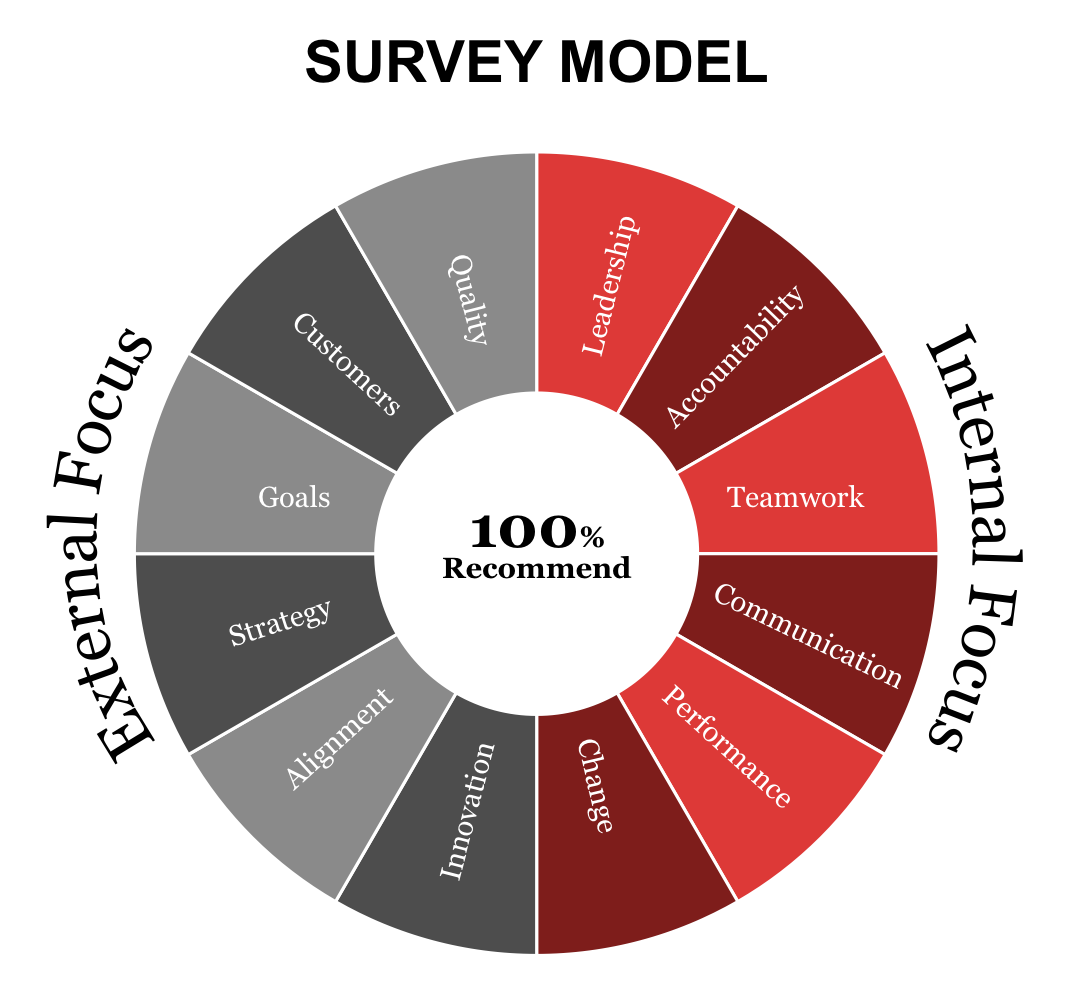 Never Ask Questions You Can't Fix
Every survey question you ask implies a promise that you're going to do something positive to fix what's 'broken'. And if you don't act, you can kiss employee morale goodbye. The questions asked by the Hundred Percenter Index challenges employees to share specific and intelligent solutions to the problems they face. Every question we asks shows a clear Path To Action so you can take immediate steps to correct any issue on your employee engagement survey.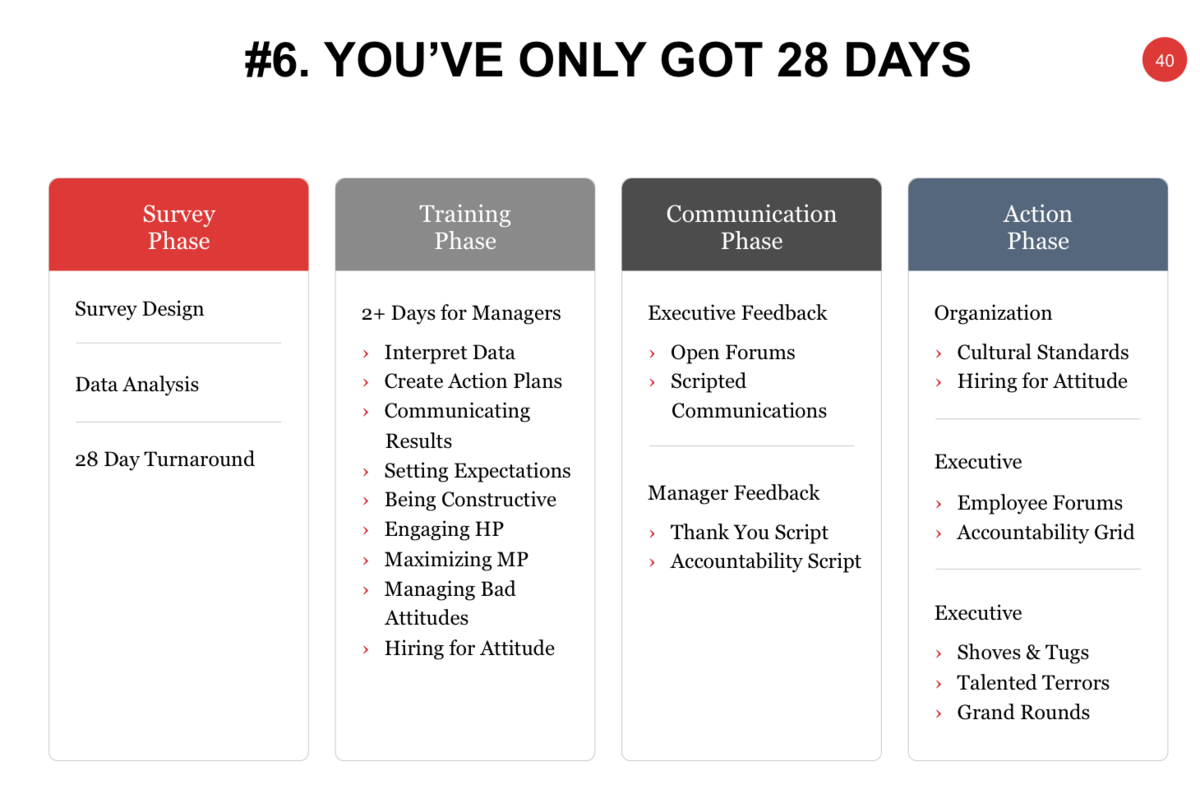 We deliver the feedback to your leadership team that quickly. The results of your employee survey have an expiration date, and the three, four, or even five months most companies wait only worsens morale. You've got about 28 days. You don't have to have every single regression run and every departmental data set completed, but you must let folks know that the initial report and analysis have been received and that there's a schedule for meetings where every employee can see or hear the results. Don't ever let your survey provider tell you it takes months to process the data; it doesn't.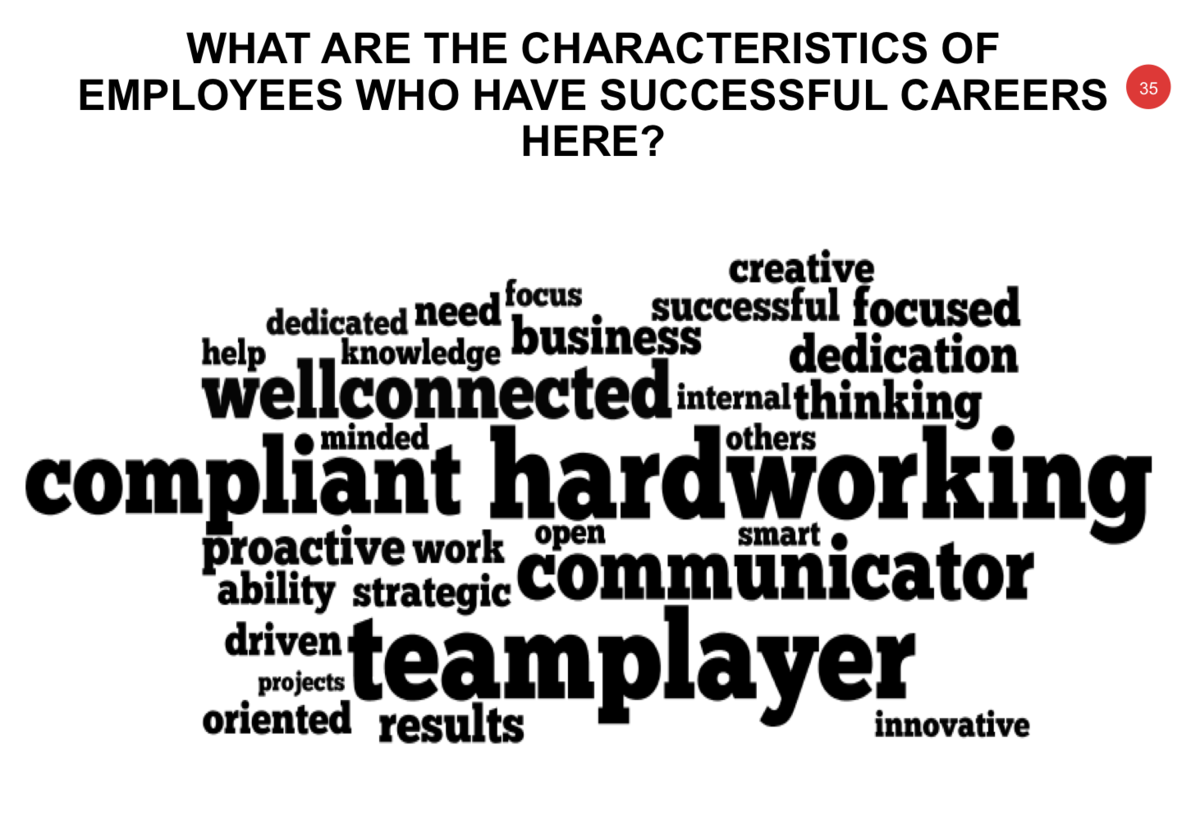 We Use Advanced Data Mining
Leadership IQ uses advanced data mining, which links survey data to your HR demographics to identify highly specific pockets of low or high engagement that require extra attention. With the use of a unique identifier (e.g., email address or employee ID), Leadership IQ can break out your data by Organizational level (such as unit, division, department or location) or Individual characteristics (including age, gender, tenure, hours worked, distance from office and more).
For more information about how our employee engagement survey can help your organization, please contact Jill Sutherland at 800-814-7859 or jill@leadershipiq.com